Commissioning Technical Engineer (CxTE)
1) Summary of CxTE
The commissioning process of building services requires engineers who can carry out actual tests such as functional performance testing and operational optimization tests. These engineers must fulfill the following.

Possess the skills to accurately follow through the commissioning task according to the instructions of CA and CxPE as a member of the commissioning team.
Demonstrate excellent measurement and analytical abilities, expert knowledge in controlling trial and automatic operation, and follow through with inspection work on-site.
Demonstrate excellence in handling data processing and simulation tools, expert knowledge of failure detection and diagnosis, optimizing systems, and the ability to tune them to an optimum state.
Demonstrate a wide range of data analysis skills and knowledge of facility systems.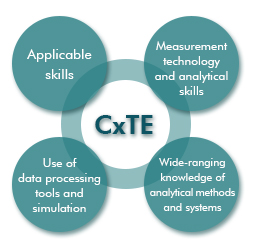 These engineers are called "Commissioning Technical Engineers" (CxTE). CxTEs are also the future CxPE. CxTEs are also categorized into the two fields based on their field of specialization and the scope of his expertise.
■ CxTE-A
Engineers who demonstrate excellence in measurement, data analysis, and processing
■ CxTE-B
Engineers who demonstrate excellence in Cx tools and simulation
2) Registration
Those who have taken the CxTE Engineers Training Session (number of hours: 4 hours for both CxTE-A and CxTE-B) and have completed the training can register with BSCA's voluntary CxTE engineers' registration service. When registering, you must provide such basic information as the name of your company or organization, name(s) of licenses you hold, your academic background, and names of the main facilities for which you worked as a Cx. In addition, you must provide a self-evaluation of your abilities as CxTE in three ranks, as well as your professional history. Once you are registered, you will be listed on our homepage(http://www.bsca.or.jp/cxte/)and your information will be disclosed to the public as part of the human resources information for those requiring the services of Cx. BSCA hopes that this framework will greatly expand the business opportunities for its registrants in commissioning.
3) List of Certified Engineers